Last Sunday we had a special day for our little girl. She was blessed at church. We do this to dedicate her to God. It was a wonderful ceremony.
We were especially happy for all the friends and family who came to join us. It is so great to share moments like these with them.
The meeting in itself was a typical "New Life meeting", with the translation and the "fika" in the middle. (Fika is a Swedish word that for a short coup of tea or coffee and some small ting to eat (like a cake) with friends). Stewart was leading the meeting in his usual humorous way. Katti was leading the worship (the songs we sing). That was really good. Both Susanna and I really like it when she is leading. Kjell was preaching with his typical orderly way. (I somehow wasn't paying too much attention).
Caroline (the children's pastor) was in charge of the blessing. First she said a few things. I prayed for Ellinor and then Caroline blessed her. After that the congregation came up to us and prayed for us as a family.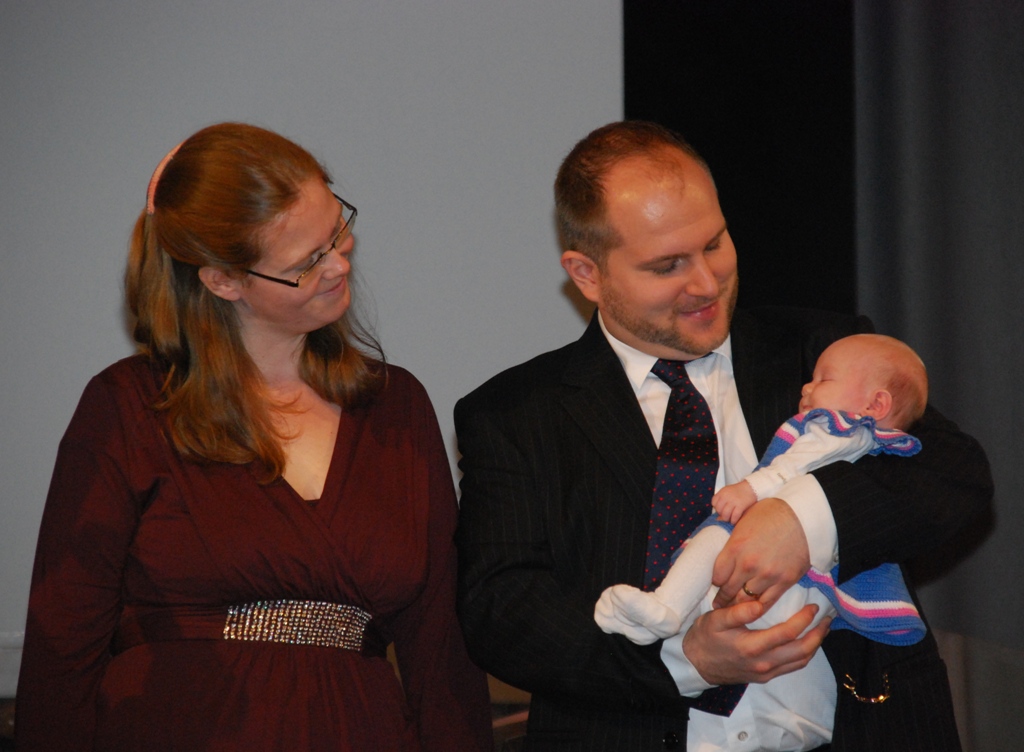 Here a picture of us on stage.
One a little more non-typical event was the collection of money, due to the fact that the church made it a special collection to get the last money to buy the new building. If you are wondering, yes we got the money to buy it, now we just need the money to adapt it to our needs, but there we have a little more time. The big move will probably be in the end of February.
Back to Ellinor's day:
After the meeting we had invited a few friends to our place. It was a great joy to have them all over.
Thank you who came! We were really happy for you and Ellinor is so happy for her gifts (at least Susanna and I are, Ellinor is still not entirely getting the concept of gifts). It was a great evening.
And all of you who couldn't make it, we were happy anyway, we can't be at everything we are invited to either. Actually when we invited you we thought more wouldn't come due to the short notice.
All of you we didn't invite, we are really sorry, but there is just not enough space at our place to have all of our friends over at once. Just give us a call and we find some time to meet (probably just not this year).
One other great thing with the weekend was that Susanna's parents and brother were here. It's so nice to see grandparents taking care of Ellinor.