As you might have seen, we will be moving to Skåne before the end of July. That is a big change for me. I have all my adult life lived in Stockholm (and Solna, but that was even closer to downtown Stockholm than where we live now). Before that I grew up close to Stockholm, coming here when I was 3½ years old.
Stockholm is my home. I know the city fairly well after 5 years of working as a bus driver. The last couple of years I have been less and less in the downtown area though. I started working in Solna in 2008, making in unnecessary to go into the downtown area to get to work. As Susanna and me hooked up there were even less trips into town, as I didn't meet with friends in town as much as before. Now that I have a kid it's only on special occasions that I actually get into the centre, like tomorrow when there is a wedding we will go to. Living in the western suburbs is easy; there are very few everyday things that can't be done here.
I do have a lot of friends here. I will miss them all. Some of them more than others. I think that will be the biggest change. Up until now the friends that moved away were in some way just leaving my life. If I didn't make an effort or they didn't do it either they would just drift away into the one card a year type of friends. I don't want it to be like that, but somehow when you have a family it's a lot easier to stay in touch with the people you regularly meet anyway.
Now we will be the ones moving away. It's a different feeling. For me anyway. For the friends that stay behind probably not. I will try to make an effort to stay in touch. We will have a guestroom so if you pass Höör you can stay the night. (Just let us know a few days ahead so that not all of our friends show up on the 17th October). We will try to meet with as many of you as possible before we leave but everything went kind of fast so there is not that much time and we do need to pack and organise our things too. (This time we'll try to get rid of some stuff that we definitely won't need).
There are a few other things I will miss leaving Stockholm.
The water: I think this is Stockholm's best feature. Just like today when I went on a bike ride with my daughter to Drottningholm to have an ice cream. The water makes it all so much nicer.
Our view: We just have a lovely view where we live. The place we are moving to doesn't have a view. We don't know where we will live later; maybe there will be a view there. We just don't know.
Our apartment: It's really nice.
My parents: They are still living here. And who knows if we ever will convince them of following our footsteps to the south?
Our church: The church I have been a part of since 1996 or was it 1997? I started doing sound in 1999 and am still doing it. It has been a second home for me and it contains many of my friends and memories.
All the places with memories: There are so many places with memories here. Sure, some of them are bad and I won't mind not seeing these places as much, but there are so many good memories that are connected to places here. And when I see a Bus nr 4 I just remember how it was driving down Odengatan early in the morning, as most people still slept. Or when I pass Tranebergsbron and I remember the first of November when it became so slippery that people pushed the cars over the top one by one. (Sure some people don't have that as a good memory I guess). When I jog down Bergslagsvägen I remember the times I drove to my friends at Tempus for some games of just fellowship. Or when I pass Tomteboda I remember the sunrises over Stockholm that were so beautiful after a late night of work or partying.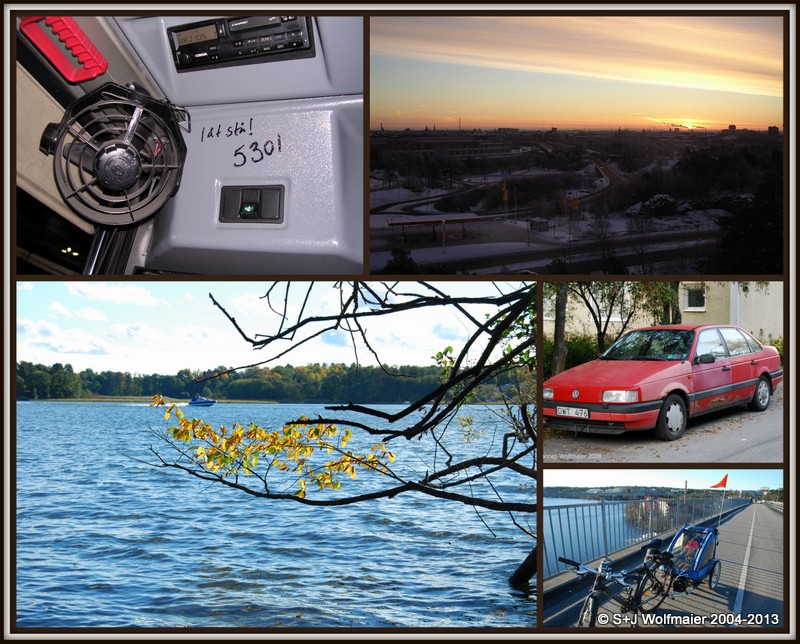 I will come back to Stockholm every now and then for sure. As long as my parents live here probably often. It will not be the same thing though.
I will get new memories. There will be new things that I love about the place I live. (Just check in the old part of my blog).
Now I have got start sorting out old broken shoes. I shall not move broken shoes!