We have finally bought a new car. It is really difficult to buy a car, first we had a budget, then there was a thought of what kind of car we wanted, then we started looking at ads. There are so many cars out there matching our criteria. We had to look at some cars.
If you want the quick version, just scroll to the end of the post, there is some good portion of rambling in the middle.
So, the new car should not be too old, we had a limit of how much we could put, and preferably not driven that far. That makes a tricky combination. We looked at Hyundais, first. Then we realised we didn't want something as wind sensitive as the Yellow Danger. There are some other models there too. We also looked at VW-Polo and Golf and siblings from Seat and Skoda. Na, either they were Stone Age (or at least from the previous millennium) or they had been driving something like 300 000 km. At this point we realised we need to broaden our search and start actually looking at cars not only browsing ads.
So Susanna's parents came to take care of our kids and we went for a tour de used-car-dealers. At the first place we had a rather shocking encounter with a Hyundai Getz, (I think it was), not that old, just not taken care of. There we also saw a Ford Focus that kind of opened our eyes to the Fords. The second place was closed (or just not answering the phone), the third place had grass growing out of the car so we decided that we didn't really think that was proper treatment for a car to be sold.
After a much needed lunch we continued up the coast to look at some other cars. Two Hyundai Accent were the lures. We took one for a test drive. Not our car. And it wasn't that nice either. We looked at some Fords again, but neither one of them was better than the one in the morning.
Off to the next place. We were greeted by an eager salesman (probably the owner of the place). After letting him know what we wanted he started showing us cars. It was a bit confusing at first; he was showing all kind of cars kind of at once. But we wanted to look closer at a few of them. Here we first came in touch with the French cars. We realised that a Citroën C4 wasn't our cup of tea, centre speedometers should be banned. The C3 wasn't that nice and lacked some features, I was really hoping for car with cruise-control. We looked at some Opels here too but they were a bit over our budget.
A Renault Mégane was a nice surprise tough. Coming in a bit below our budget it caught our eyes. So we asked for a test-drive. It was a pleasant surprise. Quiet, smooth and comfortable. We really liked it. Still we weren't convinced. Renault isn't a brand we were familiar with. It had some things that needed tending but that wasn't a problem the salesman said, they would fix it.
Off to the next place, the last place in our tour. Here we had high hopes. Boy did they fail. The cars were in lesser shape than at the previous place and seemingly higher in price. We didn't even test-drive any car there.
On the way home Susanna researched a bit about Renaults. The gathered info convinced us that a Renault could actually be a feasible choice for us. We still liked the Ford Focus though. Back home we did some background check on the most interesting cars we had looked at. 7 owners on both the Ford from the morning and the Mégane. But wait; the first owner of the Mégane was a car rental company. So that's why it was so cheap. Some more research on owning a former rental crossed that car off our list. Now we were back to the Ford Focus. It had been rolling a bit far so we decided to look at some more.
As we didn't want to ask someone to watch our kids again Markus and I drove to Kristianstad to check out some Fords we had seen ads for. The first one was sold. Going to the next one. At first it looked okay, but a closer look revealed rust, and plenty of it. It was actually more rusty than the Yellow Danger. And that isn't a good sign for a car almost 4 years younger. It had some parts almost falling off. We still took it for a test-drive. It didn't feel good either and made some funny noises.
Disappointed we looked around in the store. There was a Renault Mégane there too. It looked really nice. So we took a closer look. I asked if we could take it for a test-drive. It felt good. We looked at it, no rust to be found except for a bit on the break disks in the back. (One of them needs replacement in a not too distant future). Just below our budget but without winter tires. Winter tires could be included though. So we went home thinking this might be the car. Back home we did the background check. Only one user and nothing other showing up.
So, today (Monday) we went back there to buy it. Susanna hadn't seen it before but she liked it too. Here it is, the Golden Fun. A bit bigger than needed, but it could double as family car in case we need to. Now I only have to install a phone-holder.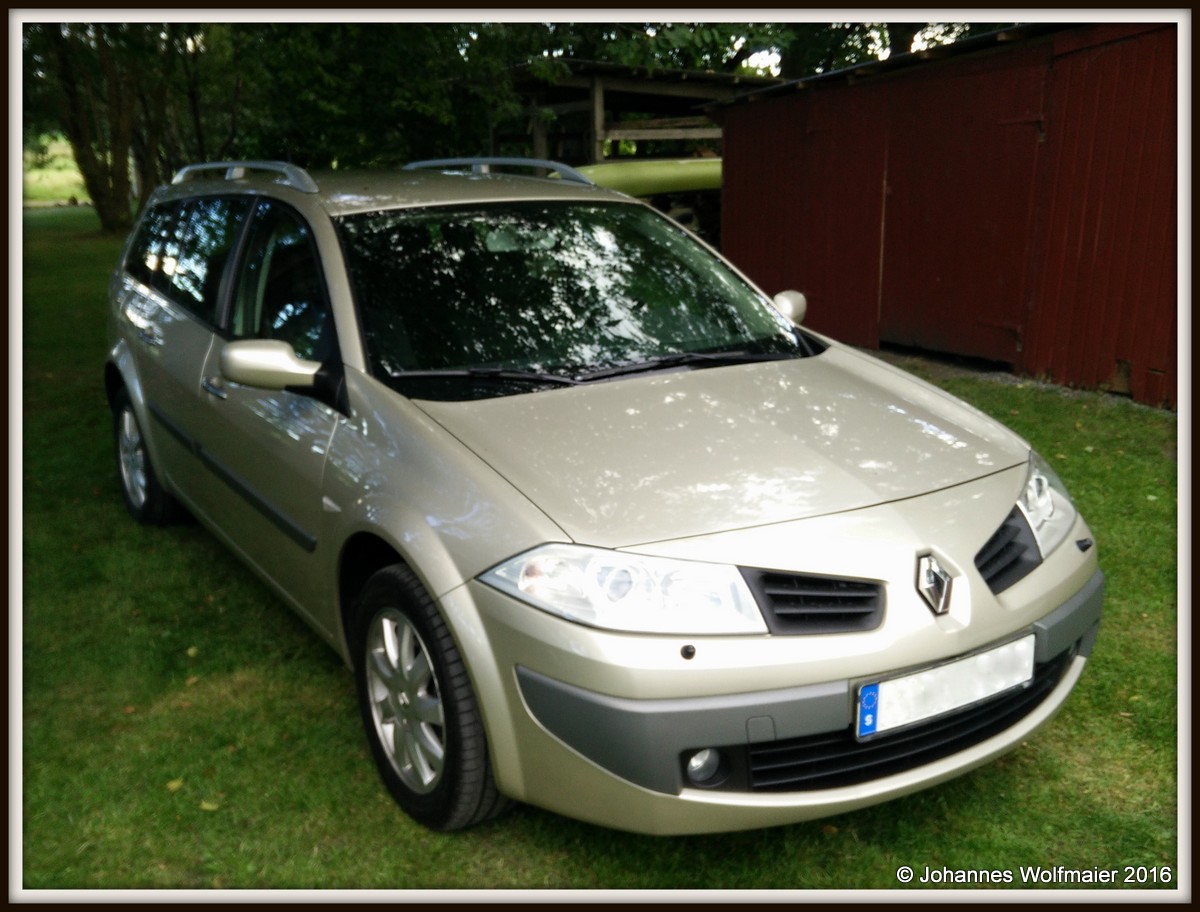 Here is a picture of the car.
We already made use of the fact that we have two cars again. Susanna went shopping while I picked up our daughter from a friend.