Today was a special day. On Thursday, Susanna bought Ellinor a bicycle-helmet. Today we tried it out.
This afternoon we installed the seat in the bike-trailer. Now we can go for bike-rides all three of us. This will be great, so much better than to walk and take the bus or subway.
Afterward we had a little short test; we took a short trip of a few hundred meters to try it out. Ellinor seemed to be okay with it. I just have to be more careful crossing speed-bumps and curbs. Her head with the helmet on wiggled a bit much.
Here a picture of us when we got back in.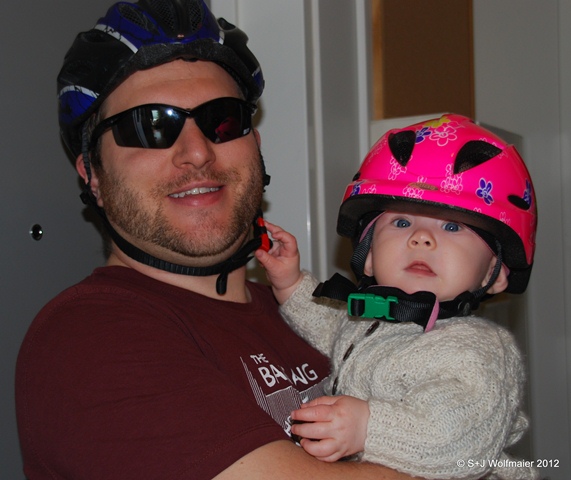 So many things have happened the last month. Ellinor eats more and more of the same food we eat. Sure we have to chop it up, but some things she eats whole. I don't really know what her favourite is, but she really likes potatoes and tomatoes.
Her technique to move around has been perfected. Now she can get around the entire flat. We really have to be watchful, just looking away a short moment and she's in boxes or pulling cables. Luckily her technique of moving around has the pro that a standing chair is a barrier she can't get past, but for how long? We have started to remove things from floor-level; some things remain to be removed still. We don't want to take all things away; she has to learn that some things just are not to play with and some things we just can't remove; the electric outlets, luckily they are protected so that small fingers can't get hurt. We don't want her to learn that it's okay though, one day she might get to an outlet that isn't protected and we don't want an accident then.
A short film of Ellinor eating tomatoes:
[embedit snippet="ellinor-eating-tomatoes-2012-06-09″]
When I get home from work, if she is on the floor, she looks around the corner in the cutest way, leans forward to check, not having to take two or three more hops to the front.